A lot can happen in two years. Just ask Arc'teryx. In 2019, the North Vancouver-based brand entered the circular economy with its Used Gear program, enabling customers to send back gently worn apparel for store credit — and others to snag those refurbished goods at sweet prices. Famed for its performance, durability and style, Arc'teryx processed 5,000 trade-ins in the first six months, and the following year the program more than doubled in size. The signal was clear: Consumers were voting for sustainability with their dollars, and the sky was the limit.
"We saw an enormous amount of interest in used gear and alternatives to brand-new products," says Katie Wilson, Senior Manager of Sustainability at Arc'teryx. "Two years later, demand remains super high and products sell out incredibly fast. This has created an opportunity to try other pilots, all under the umbrella of ReBird."
Wilson has been at the helm of the Sustainability team for the past year and a half and oversaw the launch of its Science-Based Targets, emissions reductions and renewable energy goals approved by a worldwide consortium aiming to keep the global temperature increased below 2 degrees Celsius.

What's that mean for you? Cool new initiatives under the ReBird program, like a recent one that collects end-of-roll materials and upcycles them into new products like the Stowe Windshell ReBird ($179) and Rush Jacket ReBird ($749), for starters.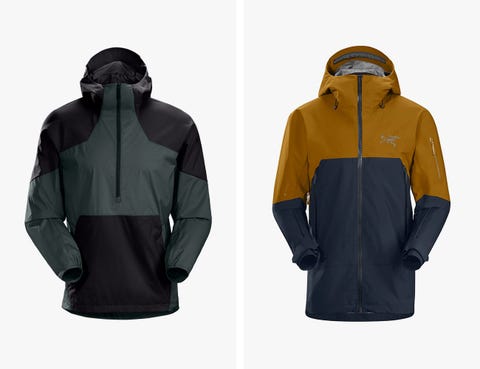 The Stowe Windshell ReBird (left) and Rush Jacket ReBird (right) are both made from surplus materials.
Wilson says the targets for the ReBird program aren't public just yet, as her team works internally to quantify the impacts of its carbon emissions. "What I can say is that the science-based targets are our most urgent priority as a team and a business," she reveals. "Our strategy is to avoid fast fashion at all costs."
As a whole, Arc'teryx aims to reduce 65 percent of its greenhouse emissions by 2030. Wilson says current estimates show that ReBird may account for roughly 10 percent of that reduction. The rest of the reductions will come from renewable energy investments, energy efficiency in the supply chain and sourcing lower-carbon materials.
For ReBird to hit its lofty goals, it will need to scale significantly. Wilson is the first to admit the line of products under ReBird and its platform of information on circular economy need to grow. "We know many of our customers want to buy responsibly — the Used Gear program showed us," she explains. "Now we need to help others shift their buying behaviors, too."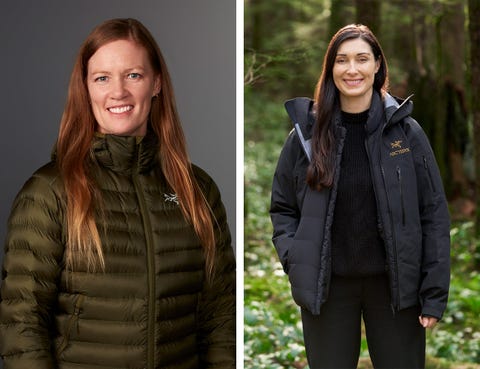 Senior Manager of Sustainability Katie Wilson (left) and VP of Recommerce Dominique Showers (right) are leading Arc'teryx's push toward more earth-friendly practices.
Arc'teryx
The challenge isn't just the demand side of the formula. Arc'teryx also needs to expand the supply side of ReBird. Wilson says the biggest hurdle in upcycling is tracking and managing materials, which starts with a full restructure of the system.
"We knew that an end of a roll was sitting in a factory but we didn't have enough information to make it useful for us," she says. "We needed to analyze and assess the quantity and colors, and what would be acceptable together. It isn't hard from a manufacturing standpoint to make the upcycled products, but collecting and streamlining the data for sourcing took more work."
Arc'teryx hopes to make the process more efficient and increase the volume of upcycled products soon. "We're trying to streamline the manual aspects that inherently make it more expensive," Wilson notes. "The program as a whole creates an opportunity for lower-price point gear, which has the potential to bring in an entirely new customer."
That aspect is hard to miss: Not only can programs like this one benefit the environment, but also the business — and its fans. The Used Gear program, after all, offers products at 30 percent off MSRP, if not more.
"It depends on the age, quality and length of repair, but any used garment is cheaper than new," says Dominique Showers, VP of Recommerce at Arc'teryx. "That inherently makes it a better price/value proposition. Over half our ReBird customers are younger and new to the brand."
But Showers emphasizes that the emergence of this new fan base isn't merely price driven. People love the story behind the piece of gear, she says, noting that products sell much faster when they have an obvious fix that tells that story. If that seems odd to you, consider the seemingly endless popularity of distressed jeans.
"We're continuing to learn and iterate," adds Showers. "Small things like repair times to durability of older materials, all the way up to carbon savings." Arc'teryx is starting to implement some of these lessons, like reducing carbon emissions through regional repair and services that are able to do the basic fixes like zippers, washing and reapplying DWR.